"I got every AWS Certificate in under 3 months": How Sharōn Prince did it with Pluralsight
Sharōn Prince obtained all 11 AWS certificates in record time, which let him secure his dream job as Principal Cloud Architect for the US Government.
Nov 16, 2023 • 7 Minute Read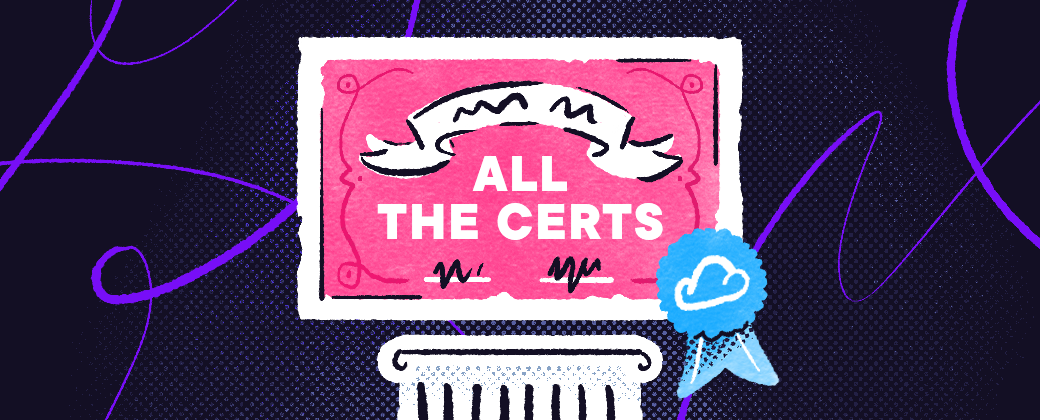 Cloud
Professional Development
Learning & Development
Public Sector
Very few people get every single AWS Certificate. Of the fraction who take on this daunting challenge, it typically takes six to nine months of study to successfully take them all.
That's why it's miraculous that Sharōn Prince, as a first timer to AWS certification, successfully passed every single exam in under three months — something we'd never heard of happening before. 
Just two and a half years since performing this feat, Sharōn has completely changed his career path to become a cloud expert. He now works for the U.S. Government on major projects that shape the whole nation's cloud transformation ecosystem.
So, how did he do it? 
He had a great purpose for pursuing certification
When Sharōn started his certification journey, he was working for a mid-sized company as a Principal DevSecOps engineer, and his wife had just given birth to his son Gideon. 
"I wanted to work from home so I wouldn't miss out on any of his precious childhood moments," Sharōn said. "It's all too easy to lose those, stuck in the office from morning until night. That time with my family is very precious to me."
Sharōn knew if he found some way to stand out and make himself more valuable, people would value his skills, and he'd be in a better position to bargain for remote working benefits. He said knowing his motivation was critical not just to starting his journey, but continuing on it.
"If you find your purpose — in my case, wanting to provide for my family, and spend more time with them — this helps you power through the study. You can always think back on 'Why am I doing this?' when you're getting daunted by all the exam prep."
He worked with what he had in his hand
Sharōn said the key to success was figuring out what skills and resources you had right now, and leveraging those as best you could, instead of fixating on all the things you lack.
"I asked myself 'What do I have in my hand?' My company was using AWS, and by extension, so was I as a DevOps Engineer. This was a personal skill I had that I could develop further and become really good at."
He also noticed his company had a subscription to A Cloud Guru, a Pluralsight product. His company was also happy to pay for any certification exams he took. So why not use that?
"Nobody in my team was taking advantage of the platform, so I decided to get ahead. Without Pluralsight, I couldn't have done it, and the value was astounding. For a couple of hundred dollars, it was a platform that completely changed my life."
Watching at double speed, eight hours a day
Sharōn didn't just watch the courses: he watched them at x2 speed while working at the same time.
"I sat down and did the math. If a course said 36 hours, that's 18 hours at double speed," Sharōn said. "Really, a Monday and a Tuesday. So I could finish it in two eight-hour increments."
"Whenever something came up that I'd never heard before, like a new concept or service, I slowed down to regular speed or looped back."
He also got up to study in the mornings, spending both his office and private hours cramming the certification prep materials.
"Maximizing your time is a big factor through the whole process. I bought myself a stand desk so I didn't feel sleepy and could stay alert. For the exams, I had electrolyte water to minimize the times I needed to go to the bathroom, because every minute matters."
Back-to-back exams kept everything fresh in his mind
"One of the best bits of advice I would give people is don't drag out your exam prep" he said. "It is a game changer to do everything at the same time. Don't say 'I'm going to spend six months on this'. You lose the passion, either from time or work pressures. Just push yourself through it."
Sharōn said if you're going for multiple certifications at once, it also helps to do them back to back.
"There is so much crossover with AWS certifications. You're in the zone and everything's fresh in your mind. If you take a month or two off, it's easy to lose it."
Climbing the mountain, step by step
Sharōn said the biggest obstacle was not getting daunted by the sheer task before him of how much he had to learn to take each exam, or during the exam itself.
"You need to keep calm when doing it. Don't look at the mountain and get daunted. In the exam, it's common to come across complex questions, and people tend to freeze when this happens."
"In both situations, just take things one step at a time — you can't take ten at once. Just worry about the next thing you need to answer, or the next thing you need to study."
Failing is just learning by a different name
During his certification marathon, Sharōn failed one exam and had to retake it — the Machine Learning Specialty. However, this gave him a chance to let the knowledge really sink in.
"The subject matter was completely new to me. I didn't pass it in the first shot, but you can retake the exam after 14 days," he said. "So I took another certification in that time because I didn't want to waste two weeks."
"What I found was the first time I learned about machine learning in AWS, but the second time I actually understood and connected the dots. So even from that failure, I won out."
"All the AWS certifications are tough, except perhaps the Cloud Practitioner. But even if you don't pass, you can transform that into a long-term win."
Being certified didn't just give him a job, but valuable knowledge
After getting all 11 certifications in 2021, Sharōn got promoted in his current role, then later moved to working for the United States Government as a Principal Cloud Architect. However, it's also allowed him to think holistically and solve problems at a whole of business level.
"The knowledge you get from the process is mighty. It allows you to see issues ten steps ahead from a holistic viewpoint, and answer people fast. You can fix things at an enterprise level."
"It's one of the biggest reasons I'd encourage people to take AWS certifications outside of their specialty. I specialize in security, but I can answer questions and think comprehensively about things like machine learning, networking, and more. It lets you speak to the whole realm of AWS services, and share with people what you've learned."
Conclusion: From here, Sharōn is going to keep on learning
"You've got to keep learning. Stay hungry, stay humble," he said. "You never know when there's going to be new services or features to learn about."
Sharōn plans to retake all 13 certificates when his old ones expire, since new ones have been added.
"Since I've already got the certifications before, I think retaking them will be faster next time around," he said. "I couldn't have done it without Pluralsight."
For those eager to take some or all of the AWS certifications, Sharōn said they can reach out to him via LinkedIn as he is happy to provide mentoring and advice.
"When I began my certification journey, I was looking for people who had similar intentions to learn from them," he said. "I want to help as many people as I can to get where I am. It is incredibly rewarding to see other people succeed."
Want to start studying for an AWS certification (or all of them?)
Whether you want to follow in Sharōn's footsteps, or have your own cloud career goals, Pluralsight can help. You can start a free Pluralsight 10-day trial and access our library of over 7,000 beginner, intermediate, and advanced courses and labs for technical skills. 
You can also access cloud certification courses (for AWS and other popular platforms) on A Cloud Guru, where you can sign up with an always-free plan, no credit card required.